Relegs® is een nieuwe oplossing voor alle mensen die in meer of mindere mate last hebben van onrustige benen. Onze oplossing werkt volgens het basisprincipe van contrastimulatie, waarbij onschuldige elektrische prikkels de zenuwen stimuleren. Dit voelt comfortabel aan en vermindert het onrustige gevoel in de benen en de drang om deze te moeten bewegen. Relegs® biedt de mogelijkheid RLS op ieder gewenst moment á la minuut tegen te gaan.
Relegs® is specially designed for RLS and consists of three handy parts: a stimulator, a (reusable) electrical patch and a charger. Relegs® has no buttons and is operated simply by tapping on them. Tap twice for on / off and tap once to set the strength of the stimulation.
De stimulator kan onder de kleding worden gebruikt. Het platte ontwerp en de eenvoudige bediening zorgen voor een comfortabel gebruik, zonder dat iemand in de omgeving het merkt of ziet. Relegs® kan worden gebruikt in alle situaties dat u RLS ervaart; in bed als u wilt gaan slapen, maar ook als u voor langere tijd zit; thuis op de bank, op het werk, tijdens een avondje uit (bioscoop, theater), op reis in de auto, bus of vliegtuig.
The electrode patch can be used several times and after treatment can be stored for reuse by means of a protective film and a closable storage bag. On average, an electrode patch can be used for a month, depending on the frequency of use and skin type.
Biocompatible patches
The (reusable) electrode patches are suitable for all skin types.
Tap Touch
By tapping you can easily set the intensity that works for you.
Easily rechargeable
Plug in anywhere with USB cable. And lasts up to 10 hours.
Enjoy your freedom!
Can be operated through your clothing, so invisible in public
Relegs® kan worden gebruikt als een op zichzelf staande behandeling en als aanvulling op medicijnen die tegen RLS worden gebruikt.
Voor veilig gebruik in bed heeft Relegs® een uniek gepatenteerd peel-off detectiesysteem. Dit betekent dat Relegs® uit zichzelf uitschakelt mocht de elektrodepleister (deels) losraken van de huid. Je kan dus zonder zorgen rustig in slaap vallen.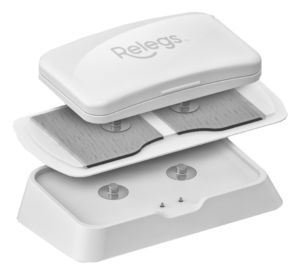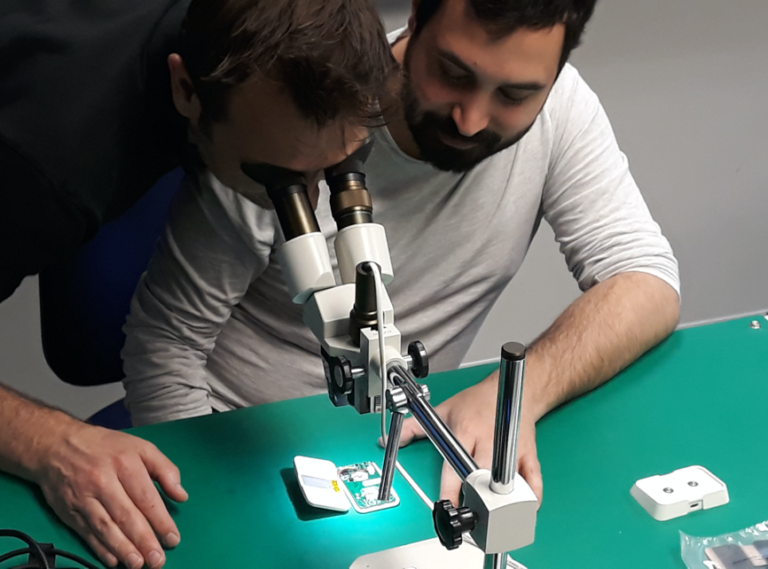 Relegs® was developed as part of ESA's incubation center in Noordwijk. The European Space Agency supports smart space solutions on Earth. Initiatives that work with advanced solutions; in our case, we were able to use a smart and safe battery management solution that had previously been developed for the energy supply of small satellites. We are proud to be part of that. Read more about the collaboration between
ESA and Relegs.
Also interesting:
Calm your restless legs with a solution from space.
From own experience we know how frustrating and annoying the restless feeling in the legs is. It creates an unpleasant compulsion to move. Relegs uses contrast simulation to suppress the urge. You can relax again in complete freedom.